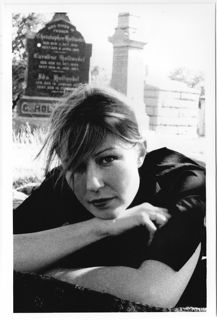 Amy Plum is the author of the International Bestseller DIE FOR ME, which is an Indie Next List pick, Romance Times top pick, and recipient of a starred review from School Library Journal. DIE FOR ME is the first novel in a YA trilogy set in Paris.
After being raised in Birmingham, Alabama, in a rather restrictive environment, AMY PLUM escaped to Chicago to an even more restrictive environment at a university that expelled people for dancing. (And where she was called to the dean's office for "wearing too much black".) After all of that restrictiveness, she was forced to run far far away, specifically to Paris, France, where she only wore black and danced all she wanted.
After five years in Paris, she ventured to London, where she got an M.A. in Medieval Art History, specializing in Early Sienese Painting (1260-1348) mainly because it promised almost no hope of finding a paying job afterward. During grad school she married a ridiculously handsome Frenchman named Laurent, who she subsequently dragged with her to New York after securing her degree.
Amy worked in the world of art and antiques in New York, while Laurent used his French guy charms and started a very cool wine shop in Brooklyn. But after almost a decade of high-pressure lifestyle in the Big Apple, they decided to swap their American city for a French village of 1300 inhabitants. With their Bronx-born big red dog Ella, they moved to a tiny town in the Loire Valley down the road from Laurent's father.
After signing with HarperCollins for the DIE FOR ME series, Amy left her job as an English professor at Tours University to write full-time. She juggles between managing restoration on their old French farmhouse, writing fun stories in her hundreds-of-years-old office (a stone house on the other side of her garden), and playing with her two extremely energetic pre-school age children.
She is a huge fan of Edward Gorey and Maira Kalman (and collects both of their books/art), as well as David Sedaris, Amadeo Modigliani, and Ira Glass.
Find her at:
Official Website
| Facebook |
Twitter
|
Goodreads