I've been such a lame moderator lately and totally suck in updating this blog. Today I bring you the latest updates on
Amy Plum
. As we all know she was traveling for her
Revenant Road Trip
Book Tour. If you haven't read it Carli made a
Guest Post
about Amy's signing at
Book of Wonder
.
She's been really busy, if you follow her on her Twitter (
@AmyPlumOhLaLa
) or her Facebook (
Amy Plum
) you should have read her updates! But there is one thing I'm totally excited about is because of this news
I'M DONE!!! I finished final edits to IF I SHOULD DIE. WOO HOO!!! *faints* *gets back up* What do I do now?
— Amy Plum (@AmyPlumOhLaLa) June 11, 2012
Imagine me like this...
Credits to Tumblr
Totally flipping over the news! I cannot wait in anticipation for this book... after the ending of
Until I Die
? I just need to read the next. If you still haven't read
Until I Die
you better do it soon! Vincent </3
On finishing the trilogy Amy has a little surprise for us, she posted a cut scene from
Until I Die
, here's a snippet from the scene:
I looked directly up into a pair of pale grey eyes. Sneering lips parted to show nicotine-stained teeth, which clenched as the enormous man grabbed me by the shoulders and threw me over his shoulder as easily as if I were a rag doll.
"You're ours now, little girlie," he said, as he joined two men who waited under a nearby tree. The three men practically oozed evil. There was only one thing they could be. Rising bile stung my throat as I realized that I was being carried off by a band of numa.
If you want to read the whole cut scene
READ IT HERE
If you are in Paris on June 26 - Amy is doing a reading in French at l'Antre Monde from 6-8
Details here
If you miss the tour of Amy doing a tour at La Sainte-Chapelle, where the revenant wedding took place in UNTIL I DIE here's the vLog Amy did for Jean Book Nerd.
And YES I've been wanting to post this picture from the Mystic Falls 2 Event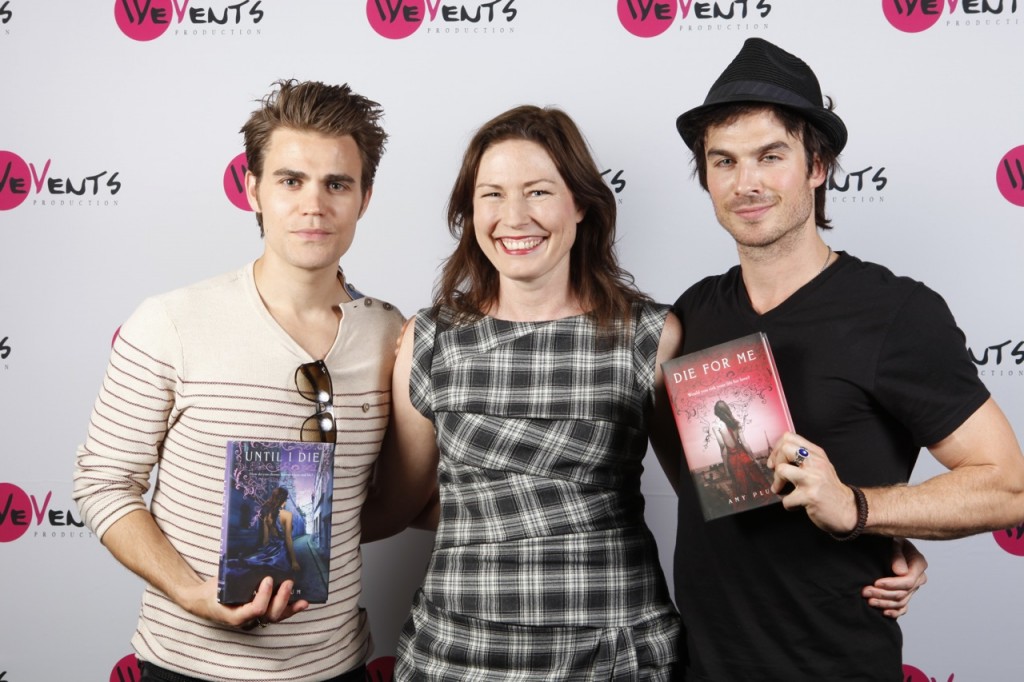 If you don't know these guys together with Amy (which I doubt), it's
Paul Wesley
and
Ian Somerhalder
*fan self* also known as Stefan Salvatore and Damon Salvatore of The Vampire Diaries, holding Until I Die and Die For Me! If you want to know more about this picture and Amy's experience with the Vampires
READ IT HERE
YA Crush Tourney Nominations! We need your votes!
The YA Crush Tourney is an annual event held by The YA Sisterhood, it's basically a battle of YA Crush, last year Jace Wayland Herondale won. The Tourney is still looking for nominations and as of now only Vincent is on the list... WE NEED YOUR HELP!
VOTE FOR THE REVENANT BOYS!
I want to promote about the nominations but it seems that the nomination is over! I hope Vincent would be part of the Tourney. Last year Carli did an awesome job being an Advocate. I'm doing my part this year! Please vote for Vincent!!!
And that was a very long update... if you still don't know Until I Die is out already! If you haven't read Die For Me make sure to read it and Fall In Love In Paris and The Revenants <3